Volume 26 Number 6
This is the last edition of The Bar Review that will be overseen by our Editor, Eilis Brennan SC. Eilis has been Editor of The Bar Review for nearly 20 years.
Highlights from this month's edition:
Ireland's Permanent Representative to the United Nations, Geraldine Byrne Nason, speaks about her career, the value of multilateralism, and Ireland's role on the UN Security Council.
Government policy and its impact on the Bar: Our CEO Ciara Murphy and Policy Executive Jess Furney provide an overview of the key policy priorities of the Bar and our actions to date.
A renewed focus on the Civil Liability and Courts Act 2004, along with the new Rules of the Superior Courts, have significant implications for the operation of personal injury litigation. Sara Moorehead SC and Veronica McInerney BL provide an analysis.
Climate Litigation: As climate cases against governments increase across the globe, recent judgments in the Netherlands, Ireland and Germany point to the emergence of an interventionist trend in the approach of domestic courts to these vital issues – Alex White SC.
Download The Bar Review Volume 26 – Issue 6
More Bar Reviews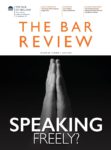 June 2023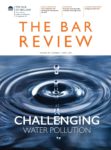 April 2023