The Bar of Ireland is playing its part in delivering the transformative power of equality, diversity and inclusion (EDI) to the business of law, as set out within The Bar of Ireland's Strategic Plan 2021-2024. We are committed to building a working environment where everyone feels welcomed and valued, and ensuring the full, equal and effective participation of all.
A more diverse profession brings a greater variety of experience, enhanced insights, skill sets, tactics and decision-making. Greater inclusion reflects community expectations of fairness in all aspects of the administration of the law, and ensures a profession that is more representative of the composition of the community it serves.
Member supports:
Consult a Colleague: We offer confidential helpline available to support all members with any issue whether personal or professional.
Dignity at Work (DAW) Protocol: The Bar's DAW Protocol aims to promote respect, dignity safety and equality between members and to ensure that all members of the Law Library are aware that all forms of bullying, harassment and sexual harassment are unacceptable.
Disability Support: The Bar is committed to supporting those with disabilities, and is a signatory to the disAbility Legal Network.
EDI & Allyship Lending Collection: This book collection is intended to support members in developing a more comprehensive understanding of allyship and EDI-related topics, including, among others, gender, social mobility, race, ethnicity, disability, and sexual orientation.
Equality & Resilience Committee: The Committee oversees the development and implementation of initiatives that promote equality and diversity at the Bar, ensuring where possible that each member's ability to achieve their potential is not limited by prejudice or discrimination.
Law & Women Mentoring Programme: This programme strives to further gender parity in the legal profession through providing support to female counsel.
Parental supports and resources: We offer parents at the Bar related supports and resources, including reduced subscription rates for those taking maternity/adoptive leave.
Personal Support Hub: The Bar provides a dedicated online Personal Support Hub, which provides access to a range of personal and professional supports and resources meant to assist members in building resilience and developing their performance in carrying out their professional function.
The Denham Fellowship: This programme supports aspiring barristers who come from socio-economically disadvantaged backgrounds to gain access to a professional legal education at the King's Inns and professional practice at the Bar.
Policies, publications and protocols
· Equality Action Plan: In June 2022, The Bar of Ireland launched its first Equality Action Plan in an effort to address the challenges faced by underrepresented, disadvantaged and minority groups in pursuing a career at the Bar. Areas of focus include, among others, gender, race and ethnicity, sexual orientation, disability, and socio-economic background.
The overarching objectives of the plan are:
To enhance public awareness of a positive equality, diversity and inclusion culture at the Bar
To introduce and embed diversity awareness training at the Bar
To enhance access to the Profession
To support fair and equitable practice development and career progression opportunities
To enhance the accessibility of member services at the Bar
· Equitable Briefing Policy: The Council of the Bar of Ireland has now approved the Equitable Briefing Policy – a vital tenet of the Equality Action Plan – which calls attention to unconscious bias in briefing decisions and encourages gender-equitable distribution of briefs in all areas of practice. The launch is to take place in late 2022.
Recent Campaigns
Black History Month
Earlier this year, we held our first event tailored to ethnicity, race and cultural background inclusion in the legal profession, and the importance of building an inclusive culture within the industry.
In October 2021, we celebrated #BlackHistoryMonth, which aims to highlight the importance and achievements of the Black community.

Pride in The Bar
In June, our colleagues celebrated Pride month – a month dedicated to celebrating LGBTQ+ communities all around the world. This was our third year participating, and seeking to bring faces and voices in support of our LGBTQ+ colleagues and allies. The Bar of Ireland is a proud member of OUTLaw Network, which aims to make the legal sector a more LGBTQ+ friendly career option and bring our legal knowledge to current debates.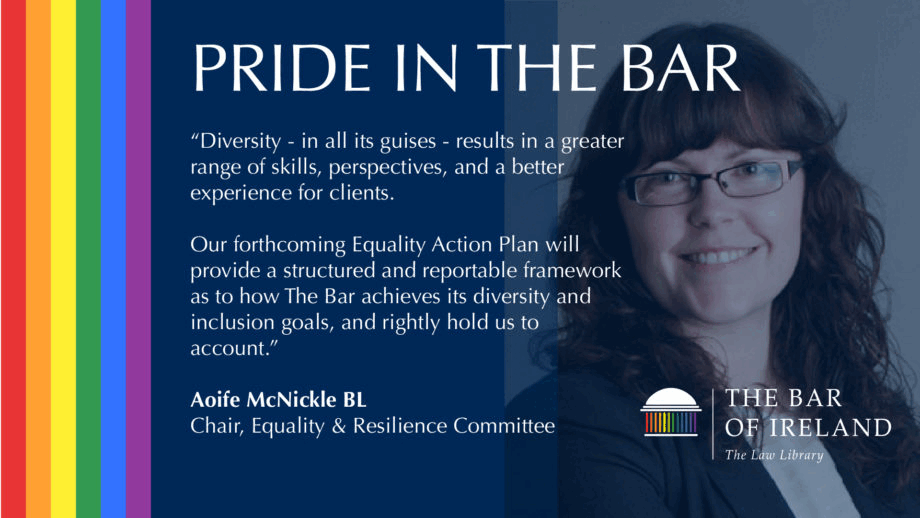 Disability & Legal Profession and Services
We continue to engage with external parties and those across the sector on issues of disability in order to support practitioners, clients and those in leadership positions create a more accessible sector, in line with national and international obligations.
The Bar of Ireland is a proud signatory to the disAbility Legal Network.
Female Participation – Celebrating a Century of Women at The Bar
In 2021, we celebrated a century of women at the Bar, and honoured the first women called to The Bar – Frances Kyle BL and Averil Deverell BL – for paving the way for generations of female barristers and their contribution to the Law Library, the Bench, and the wider society.
Read more about female participation at the Bar, including recent statistics, podcasts and events.