Fair is Fair | Withdrawal of Services
THE REALITY TODAY
Fees payable to barristers remain below 2002 levels
Cuts ranging from 28.5% to 60% have been applied to fees from 2008 – 2011
Two thirds of criminal barristers leave after just 6 years
Other workers in criminal justice have had pay restored
40% fee cut in real terms since 2002
Fees for criminal barristers remain below 2002 levels in nominal terms, following a range of cuts applied during the financial emergency. In 2008, Government also unilaterally broke the link between fees paid to barristers with increases applied under public sector pay agreements.
This means that barristers are paid a flat rate, with no provision for inflation or cost of living increases, in marked contrast to those employed in the public sector.
The flexibility delivered by barristers has enabled significant and valuable reforms to improve the experience of victims, their families and vulnerable witnesses; including but not limited to:
Implementation of Victims' Rights Directive
New measures to protect vulnerable witnesses
New pre-trial procedures to assist victims of crime
These reforms simply could not have been implemented without the cooperation and goodwill of barristers.
Further impacts include
Delayed justice due to a dearth of criminal barristers to deliver criminal advocacy services.
The future pipeline of criminal barristers is already under strain.
In addition, the public trust and experience of the criminal justice system relates directly to the strength of our rule of law.
DAY OF ACTION
The withdrawal took place nationwide at over a dozen courthouses across the State on Tuesday 3rd October 2023. There has been overwhelming support from our position across the justice and political systems. The Council will assess the position again following the outcome of Budget 2024 that will be delivered on Tuesday, 10th October 2023.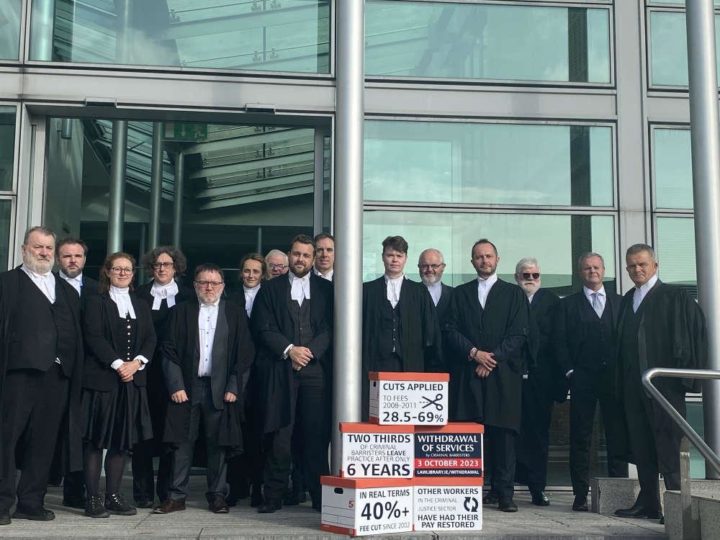 Write to your local TD
We are encouraging members to write to their local TD to take action on this issue, and have provided a template to assist.
THE ISSUE IN DETAIL
Read this Review from July 2018 below.
Read this letter from March 2021 regarding Fee Rates to Prosecution Counsel below.
Read our full press release on the withdrawal below.
Coverage from RTÉ on the Withdrawal of Services on 3rd October.
The lawyers are to withdraw services next month over government failure to restore criminal case fees that were cut up to 60pc during the financial crisis dating from 2008.
Read The Bar of Ireland's Pre-Budget Submission to Government, focusing on the restoration of professional fees paid by the State to barristers.
Support Our Call on Government
Over 1000 Signatures So Far
Recent signatures include….
Eoghan Mac Giolla Chomhgaill
Marian McDonnell Cahill SC
Treasa Brannick O' Cillin
Seosaimhín Ní Chathasaigh
Sarah-Jane O'Callaghan BL
Sarah-Jane O'Callaghan BL
Paul Comiskey O'Keeffe BL
Jurgen Laughlin-Klingen BL
Maureen Crawford Gallagher
Henry Minogue BL, LLM,LLB
Christopher Kavanagh Byrne
View all
Voice your support using #FairisFair on social media