Roadmap aims to strengthen and improve the culture at the Bar and across the wider legal sector
Today, The Bar of Ireland has launched its first Equality Action Plan, supported by James Browne TD, Minister of State at the Department of Justice.
The Plan sets out a series of recommended actions to build upon existing equality, diversity, and inclusion initiatives at the Bar of Ireland. Through investment and implementation of appropriate supports and resources, The Bar of Ireland aims to enhance access to the profession and the retention of a diverse membership. Areas of focus include gender, race and ethnicity, sexual orientation, disability, and/or cultural or socio-economic background, among others.
To ensure accountability and transparency in its progress, the plan will be reviewed at the end of each legal year.
The five primary objectives under the Plan are:
to enhance public awareness of a positive equality, diversity and inclusion culture at the Bar;
to introduce and embedding diversity awareness training at the Bar;
to enhance access to the profession;
to support fair and equitable practice development and career progression opportunities; and
to enhance the accessibility of member services at the Bar.
Maura McNally SC, Chair of The Council of The Bar of Ireland welcomed the Plan
The Bar of Ireland is committed to acting as a driving force in fostering equality, diversity and inclusion (EDI) across the legal profession through tackling imbalance and building a truly diverse membership, one of true inclusion, regardless of race, colour, creed or sexuality. It is the recognition of the equality of all that drives this action plan.
Speaking at the launch, Chair of the Equality and Resilience Committee, Aoife McNickle BL said
The plan reinforces a core pillar of our vision – that diversity is strength. Greater diversity within our profession ensures a greater variety of voices, experiences, and insights that benefit all. It reflects community expectations of fairness in all aspects of the administration of the law and ensures our profession is more representative of the composition of the community we serve.
The Equality Action Plan was launched by James Browne TD, Minister of State at the Department of Justice with responsibility for Law Reform
My Department and the Bar of Ireland are united in our commitment to tackling the challenges of diversity, access and inclusion head-on. I recognise the significant work entailed in developing this Equality Action Plan, and I look forward to seeing its implementation over the coming months and years. Myself and Minister McEntee will continue to work tirelessly to improve equality throughout the entire justice system through the reforms and initiatives in our Programme for Government and Justice Plan 2022.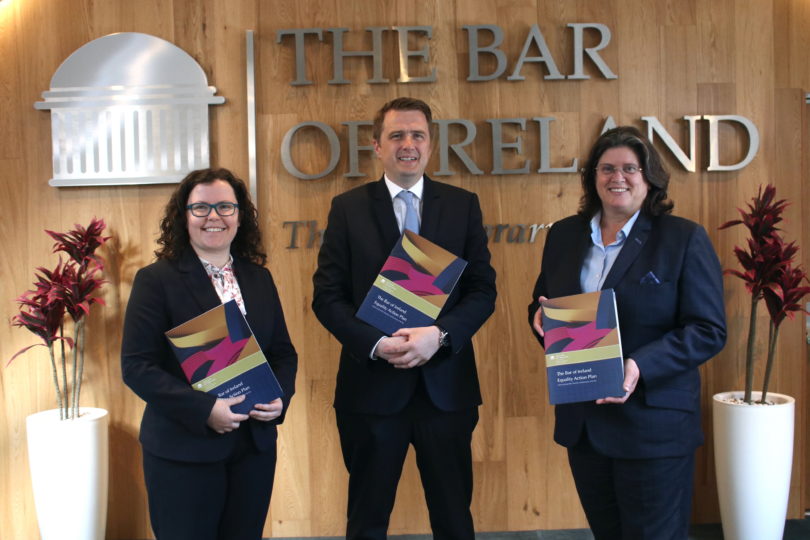 Bar-of-Ireland-Equality_Web

About the Equality & Resilience Committee
The Equality and Resilience Committee oversees the development and implementation of initiatives that promote equality and diversity at the Bar, ensuring where possible that a member's ability to achieve his or her potential is not limited by prejudice or discrimination.