This is the first Bar Review of 2022, and the first edition with Helen Murray BL in the Editor's role.
Highlights from this month's edition:
Prof. Gráinne de Búrca speaks to The Bar Review about the EU's response to the rise of illiberalism, and the challenges facing human rights movements.
Clarity on defamation: Karl Shirran BL examines recent case law offers clarity in the interpretation of defamation legislation.
Cyberviolence – the law is not enough: While recent legislation seeks to address the increasing problem of image-based sexual abuse, the lack of a civil course of action for victims, and concerns about Garda resources, are among the challenges in achieving justice for victims – Martin Block BL.
Preliminary references – a practical guide: Brain Kennedy SC offers advice for practitioners considering referral of a case to the Court of Justice of the European Union.
Download The Bar Review Volume 27 – Issue 1
More Bar Reviews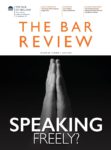 June 2023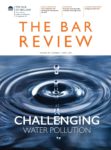 April 2023