Latest Episodes
The latest episodes from The Bar of Ireland podcasts are available below. Have a suggestion for a podcast episode? Email communications@lawlibrary.ie.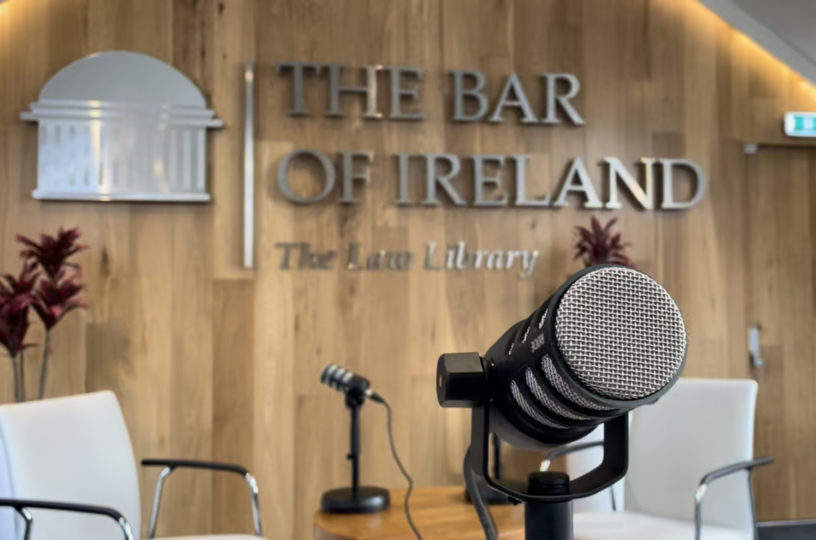 ---
Accessibility at the Bar
What can we do to make the Bar more accessible?
In our latest podcast in collaboration with disAbility Legal Network, Aoife McNickle BL and Silvia-Maria Crowley BL were joined by our colleagues from across the sea, Faisel Sadiq of Gatehouse Chambers and Mark Henderson of Doughty Street Chambers, to discuss what we can learn from our neighbouring jurisdiction on disability inclusion. What followed was an enlightening conversation on individual experiences, disclosure, and how barriers can be removed.
---
Artist Emma Stroude In Conversation | In Plain Sight Commission
We caught up with artist Emma Stroude in her studio in Sligo. Emma is embarking on the 2022 In Plain Sight commission of Frances Kyle and Averil Deverell, who were the first women to be called to the Irish Bar in 1921.
In Plain Sight is a joint initiative between The Bar of Ireland and The Honorable Society of King's Inns to increase representation of women in the law through portraiture. Learn more and contribute at lawlibrary.ie/inplainsight
Intro Music: Please – Wayne Jones
---
Pride at the Bar
Courage is the theme of Pride 2022.
In this informal, free-flowing discussion, Sean O'Sullivan BL, OutLaw Network, Aoife McNickle BL, Chair of our Equality & Resilience Committee, and our colleague Amy Walsh BL discuss what it means to be LGBTQ+ at the Bar. And how any and all of us – including The Bar – can play a role.
Intro Music: Tropic Fuse – French Fuse
---
Keeping the Native Irish Honey Bee – Climate Bar Association Webinar (in audio)
This is an audio version of a fantastic hybrid seminar on the legal protections being proposed in respect of the Native Irish Honey Bee, held at The Bar of Ireland.
As this podcast was recorded across Zoom as well as in person, the sound quality is less than optimum, but the value of the contributions and discussion no less.
---
International Day for Persons with Disabilities Panel Discussion
What are the accessibility barriers for people with disabilities in the legal profession?
This discussion, originally recorded in December 2021, aims to enhance awareness about disabilities and to promote diversity and inclusion within the profession.
Hosted by Aoife McNickle BL, chair of the Equality and Resilience Committee, the panel consists of: Silvia-Maria Crowley BL; Caoimhe Grogan, Trainee solicitor at A&L Goodbody LLP and Vice-chairperson of the Steering Committee of the Disability Legal Network; Matt McCann, CEO and Co-founder of Access Earth and Aisling Glynn, Solicitor, McMahon & Williams Solicitors.
---
Sports Law in Focus | Specialist Bar Series
Over the last few decades, the intersection of law and sports has evolved into its own discipline. What does it involve?
In this episode of our In Focus series, Susan Ahern BL, Chair of the Sports Law Bar Association outlines this area of practice, and gives a fascinating insight into the top issues in sports litigation today.
---
Employment Law in Focus | Specialist Bar Series
As part of The Bar of Ireland Podcasts In Focus Series, Lauren Tennyson BL joins this week's episode to talk about the latest developments in Employment Law, her journey to the Bar, and the work of the Employment Bar Association. Hosted by Ali Bracken Ziad BL.
---